The Northern Marianas College handed out over 400 college degrees and honored over 400 graduates for both Class of 2020 and Class of 2021 in a commencement ceremony last Friday that was split into three separate venues and streamed live over the internet to comply with social distancing measures.
The commencement ceremony, which combined the classes of 2020 and 2021 after the ceremony was cancelled last year due to the COVID-19 pandemic, was held at the Saipan World Resort, Crowne Plaza (formerly Fiesta Resort & Spa Saipan), and Hyatt Regency Saipan.
In recognition of COVID-19 safety guidelines, only graduating students and NMC staff and faculty were allowed to participate in person while their families and friends watched the ceremony via live stream on NMC's website and Facebook account.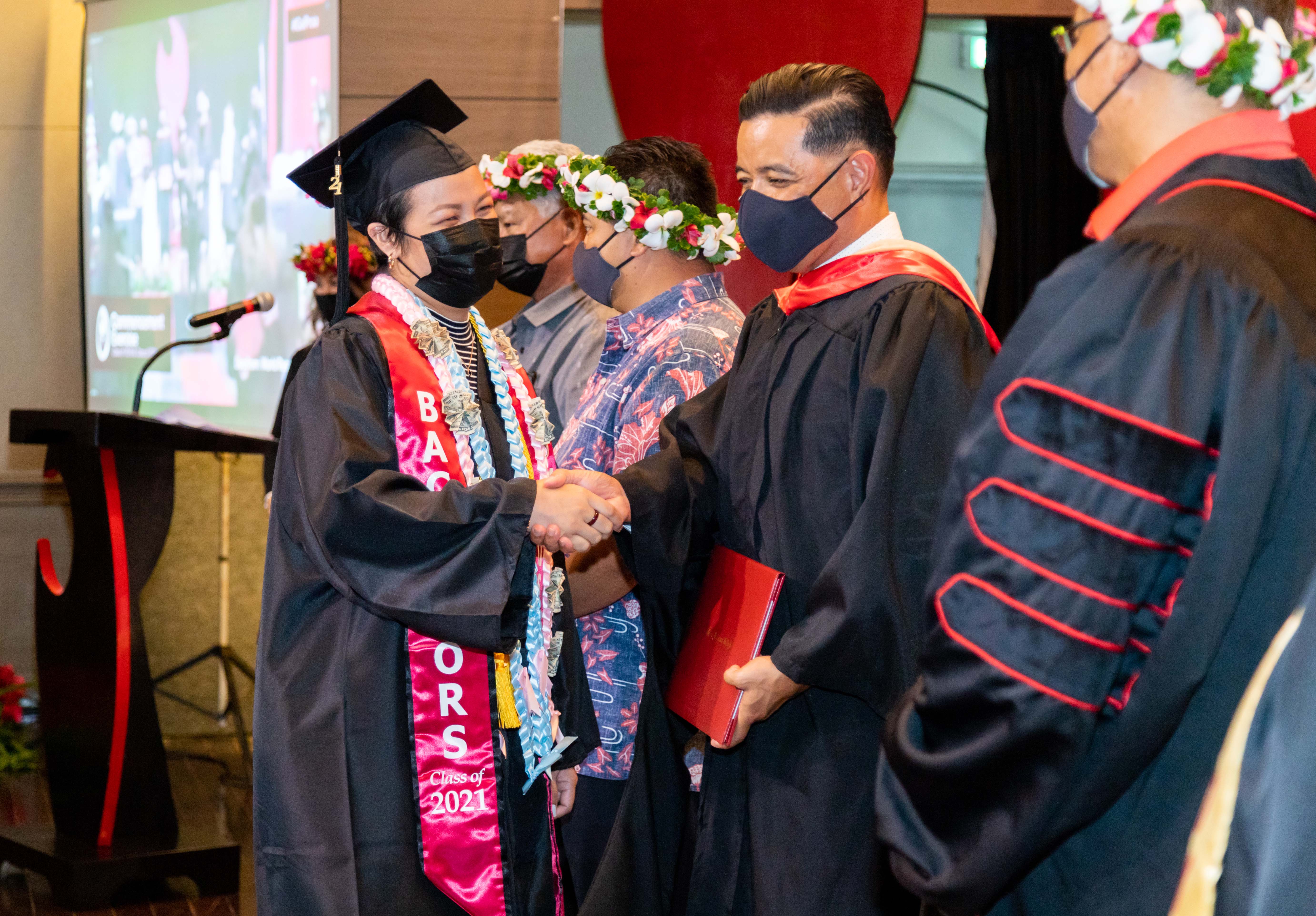 Frankie Eliptico, NMC Interim President, congratulates graduate Wendielyn Escota at last week's Northern Marianas College commencement exercise. The College conferred more than 400 degrees to students from both Class of 2020 and Class of 2021 because last year's graduation ceremony was canceled due to the pandemic. Last Friday, the graduates were spread out over three different venues to maximize social distancing: Saipan World Resort, Crowne Plaza (formerly Fiesta Resort), and the Hyatt Regency Hotel. Family and friends watched the ceremony through a live stream through NMC's Facebook page. NMC Photo
Also present for the commencement exercise were Gov. Ralph DLG Torres, first lady Diann Torres, Lt. Gov. Arnold I. Palacios, Board of Regents chair Charles Cepeda, and other members of the Board of Regents.
In his address to the graduates, interim president Frankie Eliptico thanked the students for being an amazing source of inspiration for the community, for other students, and for him.
"There are students who are single moms and dads taking a full load of classes while having to care for families and working full time, there are students who were juggling three jobs, students who worked through sleepless nights, tiring lab hours, and remote study groups. Yet they persisted. And they succeeded," he said.
Eliptico also acknowledged the staff, faculty, and administrators of NMC who helped support the students in their educational journey, as well as the graduation committee led by Manny Tenorio Castro, director of Enrollment Services, for organizing the ceremony.
Cepeda also acknowledged the perseverance of the graduates despite the challenges they faced. "To achieve this important milestone in your life, despite the challenges that were placed in front of you from having to transition to virtual learning, it is a trial no one has ever been tasked before. And to the Northern Marianas College faculty and staff who were there every step of the way [and] who, may I say, did an excellent job in ensuring that there are no delays in achieving your goals," he said.
The associate degrees awarded include Business, Liberal Arts, Business Administration (Accounting, Business Management or Computer Applications Emphasis), Criminal Justice, Hospitality Management, Natural Resource Management, and Nursing.
The bachelor degrees awarded were in Business Management (or business management with accounting concentration) and in Education (with emphasis in Early Childhood Education, Elementary Education, Rehabilitation and Human Services, or Special Education)
For the first time, bachelor of science degrees in criminal justice were also distributed in person by University of Guam's Ronald McNinch-Su. University of Guam president Tom Krise conferred the degrees virtually.