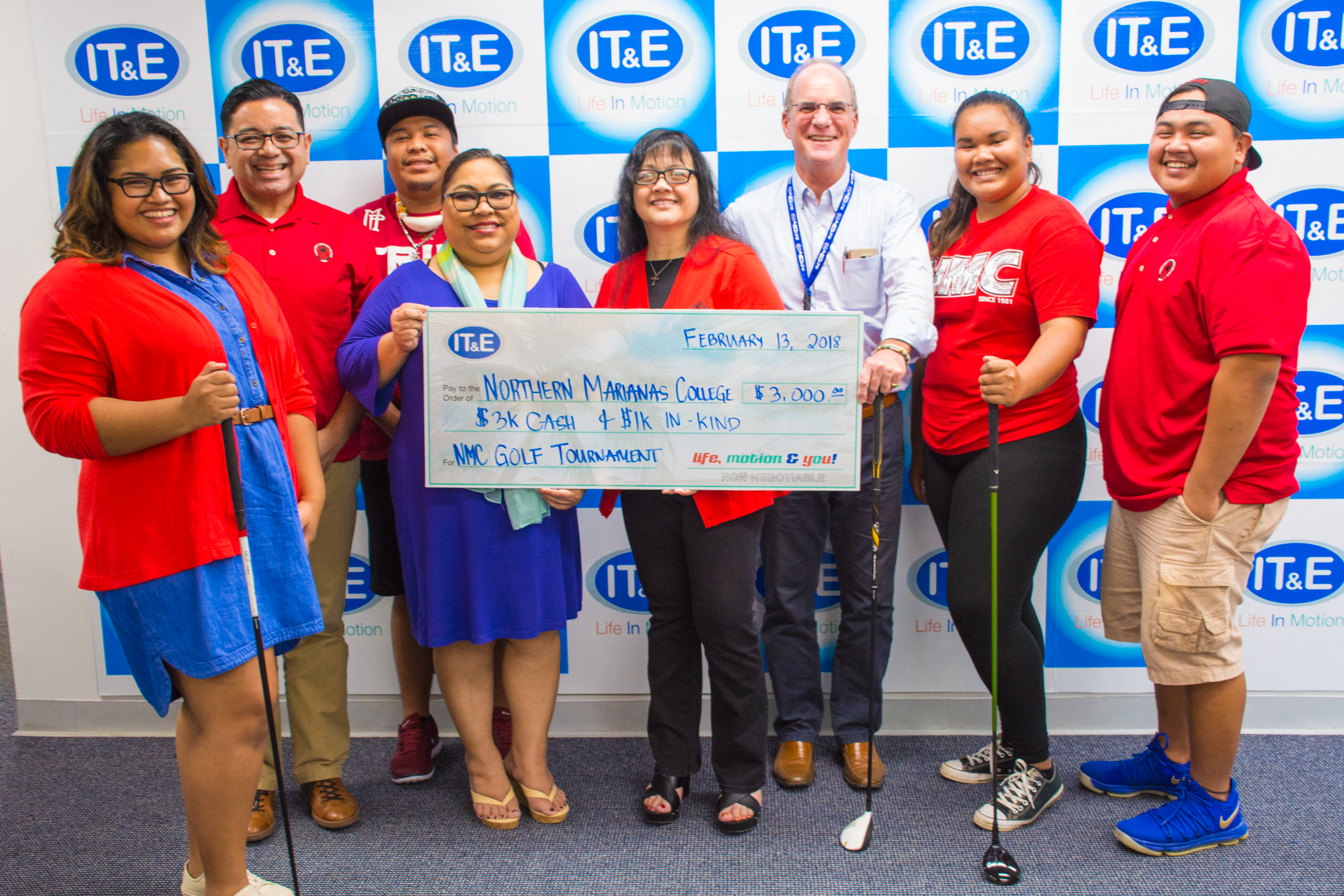 (Click photo to enlarge)
IT&E today announced that it is donating cash and prizes totaling $4,000 to help support the Northern Marianas College Foundation and its fundraising efforts for the CNMI's post-secondary institution.
The company's donation includes a brand new Note 8, worth about $1,000, that features an infinity screen, dual-pixel camera, and other high-tech features. IT&E is also providing 6-months of free data service. The donation was made in support of the Foundation's 15th Annual NMC Foundation Golf Tournament scheduled for Saturday, March 3, 2018, at the LaoLao Bay Golf & Resort's West Course.
The event will be the first major tournament of the year. "We understand the important role that Northern Marianas College plays in educating our residents and preparing them for meaningful careers," said Rose Soledad, IT&E General Manager. "We are proud to support the NMC Foundation's fundraising efforts and look forward to a successful tournament on March 3." "We've come to consider IT&E a valuable and important partner in our mission of expanding educational opportunities for CNMI students," said NMC President Dr. Carmen Fernandez. "We are grateful for the company's unwavering support all these years."
"IT&E has been a longtime sponsor of the NMC Foundation Annual Tournament and we are grateful to see the company sign on as sponsors again," said Mary Tenorio, NMC Foundation president.
The golf tournament is the NMC Foundation's signature event that raises funds to support NMC's academic programs and services. The 15th Annual NMC Foundation Open Golf Tournament will be held on Saturday, March 3, 2018, at the Saipan LaoLao Bay Golf & Resort (West Course). Showtime is at 6 a.m. and the shotgun start will be at 7 a.m. The tournament will follow a medal play format.
First place winners in the men's Championship, A, B, C, Senior, and Ladies Flights will each receive $500, while $300 and $200 will go to the second and third place finishers, respectively. Hole-in-one prizes include a Toyota Tacoma Pre-Runner offered by Atkins Kroll, Honda HRV offered by Joeten Motors, $10,000 in cash from Marianas Insurance Company, and $5,000 in cash from Pacifica Insurance. The tournament will also feature many other items as raffle prizes like smartphones, hotel stays, meal gift certificates, and other luxury items.
Registration and payment can be made at Laolao Bay Golf & Resort or the NMC Cashier's Office. For sponsorship opportunities or registration information, visit marianas.edu or call 237-6833.
×