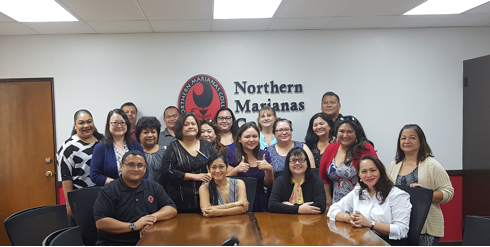 (Click photo to enlarge)
First Lady Diann Torres called for a meeting with representatives of local disability-related agencies to discuss ways in which the Lady Diann Torres Foundation (LDTF) could assist in improving services to individuals with disabilities as they transition from school to career or to higher education.
The meeting was facilitated by Floyd Masga, Director for the University Center for Excellence in Developmental Disabilities (UCEDD) at NMC, and included representatives from disability-related agencies including the Council on Developmental Disabilities (CDD), Northern Marianas Protection & Advocacy Systems, Inc. (NMPASI), Office of Vocational Rehabilitation (OVR), the Center for Living Independently (CLI) and V.O.I.C.E.S – Saipan Chapter. A representative from the Grants Management Office under the Governor's Office also attended.
Torres was visibly emotional when recollecting working with former students with disabilities whom she taught in high school "I've always wondered what happened to certain kids in my classes after leaving high school, whether they were able to successfully get jobs, go to college, or support their families," she said. Torres added, "I have this vision of a one-stop center where our kids with special needs can go once they leave school…a kind of stepping stone or training ground to help them transition into the workplace."
"Of course," she adds, "I wanted to hear from this group first… any thoughts or ideas about what is needed, but beyond that how we might be able to collaborate to help this particular population." This initial meeting was to garner support and suggestions from current disability partners and to align each organization's objectives toward the realization of this collaborated effort. The group looks to explore further the feasibility of a one-stop Disability Center that would serve as a central location for the Disability Network to provide information and services to Individuals with Disabilities and service providers, with added input from representatives of the Special Education Program/Public School System, NMTI, and CoTA. Presently, they plan to reconvene for further discussion in mid-February.
"This has been a dream of LDTF for a long time, and I am grateful for the overwhelming support of the CNMI Disability Network partners at today's meeting," said Torres. "We are all very excited to work toward this goal."
×